It's Giveaway time and you are not going to believe this! Over 20 items up for grabs from AMAZING bloggers all over the USA! It's Top Teacher's Giveaway Galore!
Just comment on THIS POST with YOUR EMAIL
before APRIL 27th and
from me you could win:

Then stop by these great BLOGS, look for this same post and enter to win their free products with them!
(Please note there is a link to the product and blog, you will want to visit their blog to enter.)
Sight Word Snap Cubes by Jennifer of Empowering Little Learners:
"Looking for a fun new center for your kids? How about having them make the sight words with Snap Cubes! Use these cards to have your students count out blocks to create the letters and form the pre-primer sight words! Then they count how many cubes it took to make the words! Two recording sheets are included (one where students just count the snap cubes, and another where students count and write the word.)"
(K-3)
Making Words with Blends by DeAnne of First Grade and Fabulous:
"Making Words is a great activity to work on phoneme isolation, segmenting sounds, and blending sounds to make words. This packet includes Blends (with both short vowels and long vowels with silent e. You will find ten different making word directions which include their own recording sheets."
(k-2)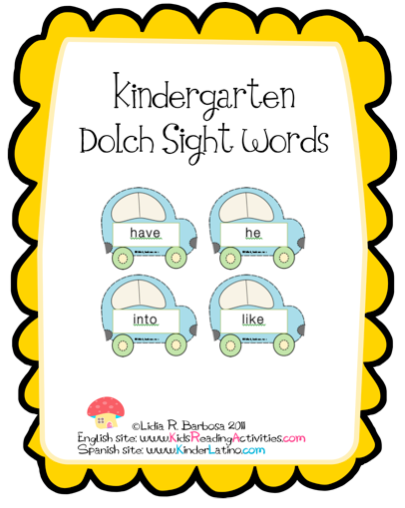 Dolch Sight Words for Kindergarten by Lidia Barbosa of Kid's Reading Activities:
"Sight word cards in a fun theme. Use them in a center, small group or on your word wall. A word sorting activity is included."
(K)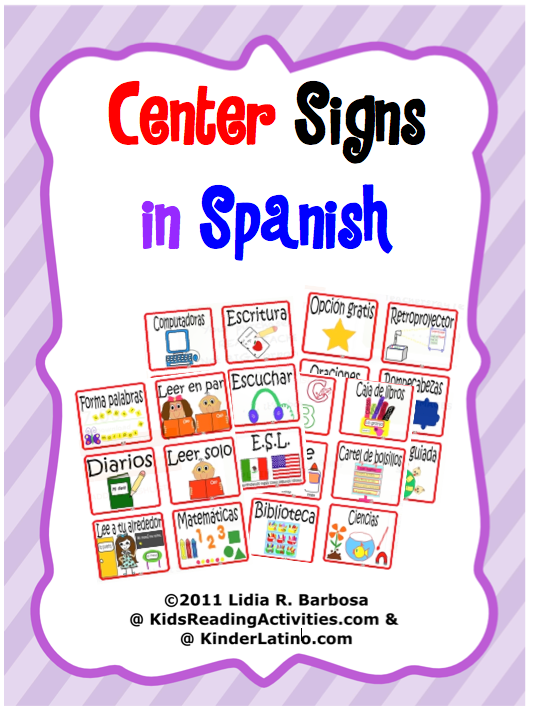 Center Signs in Spanish by Lidia Barbosa of Kinder Latino:
"These are 24 colorful center signs in Spanish. It includes two sizes. One full page size plus small cards for your Centers pocket chart."
(K)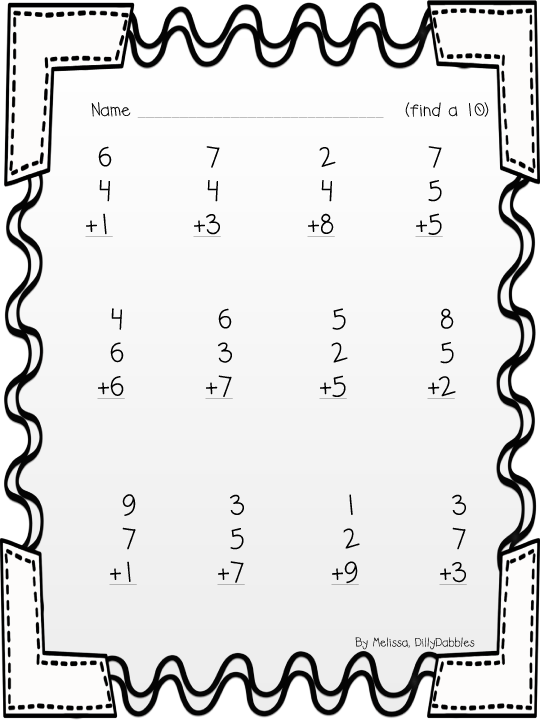 Adding 3 Numbers Pack by Melissa of Dilly Dabbles:
"Pack full of activities to support instruction on adding three numbers with sums within 20."
(K-2)
Baseball Antonyms by Sally DeCost of Elementary Matters:
"This is a game to practice antonyms. It has a baseball theme, and can be played like "Old Maid" or like "Concentration". It can be played with a pair of children, or a whole reading group.."
(1 - 3)
Compound Word Magic Square for Grades 3, 4, & 5 by Heather of HoJo's Teaching Adventures:
"This is a great fun puzzle where students need to match 24 compound words together. You will get three different puzzles with this item."
(3-5)
Interactive Student Notebook by A Teacher's Treasure:
"The ultimate alternative assessment & differentiating tool. Students will become creative, independent, reflective, thinkers, readers and writers. Students will be able to express their own ideas, process, and or apply the information and skills learned in this class. This notebook serves as a live journal, personalized textbook, and working portfolio. Engages learners of all learning modalities & multiple intelligences."
(4-12)
Vocabulary Detectives 2 by Ruth of Teacher Park:
"Run weekly vocabulary contests! As your students read their books, they fill out the Vocabulary Detective cards and put them in the Detective Jar. Have a drawing at the end of the week for the winners!"
(4-6)
Alphabet Writing: Quick Prompts From A to Z by Erin of Small Types:
"Get students' pencils moving and their creativity flowing with these short alphabet-themed writing prompts. Students can write notes to friends, make lists, turn alphabet letters into main characters and describe the details in fictional adventures--All corresponding to the letters of the alphabet. (Includes five prompts for each letter to suit different levels and interests.)"
Fun on the Farm by Brian of Hopkins' Hoppin' Happenings:
"Here is a fun Farm Packet for primary grades. It includes Farm Rhyming Words - The words used are actually from the book Country Morning by Christine Lynn. Read more about it on my blog. It also includes I Have Who Has Dolch Words, Addition and Subtraction Center. You can use them as concentration matching, go fish, etc. All, but the I Have Who Has, has a work sheet and an answer key to go with it! I hope you enjoy!"
(K-2)
Geometry Fun: A Supplemental Unit by Mandy of Mandy's Tips for Teachers:
"This 77 page packet includes vocabulary cards, a student dictionary, three games, two sorting activities, two creative art projects and a short assessment."
(2-4)
Busy Teacher Forms by Michelle of Teach123 :
"Fourteen forms to help busy teachers."
(K-3)
The Three Frogs by Arlene of LMN Tree:
"This is an ELA Guided Reading and Writing Unit for Grades 1-2. It includes a complete lesson plan, Word Study, Make and Take Book, Graphic Organizers, Story Sequence Writing Activity, Phonics Worksheet, Writing, Chant and Activities.
Writing Center by Caitlin of Kindergarten Smiles:
"I created these activities for my students writing center. They are all independent and fun! These can be used throughout the year (more than once). Activities range from name writing, to writing the globe, to sight word writing, to much, much, more!"
(K-2)
I Spy With My Frog's Eye-A Differentiated Word Work Activity by Marsha of A Differentiated Kindergarten :
" This is a differentiated I-Spy activity which includes 16 pages of CVC, CVCC and CVCe activities that are tiered to help you meet the readiness levels of all your students."
(K-2)
Writing Lists by Nicole of Teaching With Style:
"This set of 10 lists is perfect for using during Daily 5. In my classroom, if students choose Work on Writing, they can work on their story from Writer's Workshop, start a new story, write a letter to a friend, or write a list. "
(K-3)
Digital Clock Sorting Game by Jennifer of Best Practices 4 Teaching:
"This product allows students to sort digital clocks by 'quarter til', 'quarter of', 'quarter after', etc. Students will quickly see the pattern of the times and commit it to memory! In 2 days, all of my students had learned this concept using this sort whereas the lesson in our math kit totally confused them!"
Synonym-Antonym Rap Packet by Abby of Third Grade Bookworm:
"This packet is full of activities for a 2nd or 3rd grade classroom studying synonyms and antonyms. Students will enjoy the Synonym-Antonym Rap, partner game, buddy reading activity and other printables included in this set. Wrap it all up with a cute class book template that can be used with other units in the future!"
(2-3)
Early Elementary Science - Human Body Unit with Literacy Math by Lisa of The Lesson Guide:
"This Early Elementary Science based Anatomy Unit will teach students about the Human Body (inside and out) with colorful graphics and diagrams using a variety of Literacy and Math skills. This unit includes Measurement Skills, an original Poem with a Get Moving Analysis, Information/Facts about each Body Part with Vocabulary, Templates for students to create a nonfiction book about their body, Full color pictures of body parts and locations of body parts, a Classification and Math graphing activity with Critical Thinking Analysis, a Unit Project/Human Diagram, a Word Wall Classification activity with Phrase Cards, Resources and more!"
(K-2)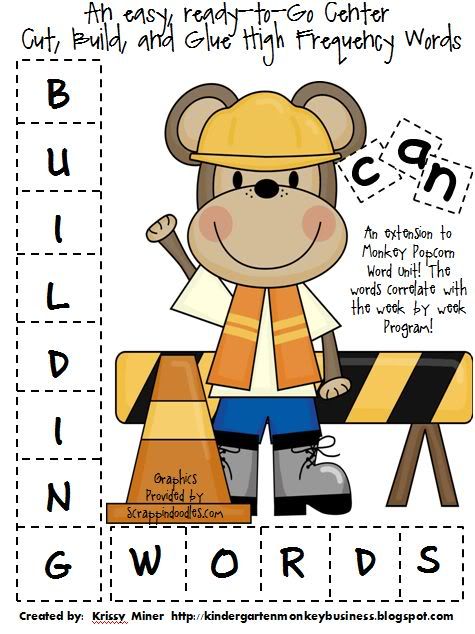 Building Popcorn Words by Krissy of Mrs. Miner's Monkey Business:
"This product includes weekly cut, build, and glue activities that follow along with my Monkey Popcorn Word Fun Unit as well as the Treasures series word list (which includes many Dolch and other HFW as well). It also has center materials that students can build the words in a pocket chart."
(K-1)
Scooping Up Story Elements by Tonya of Super Second Graders:
"This is a fun way for students to pick story elements to plan out a story. Students will pick a card from characters, setting, and plot and record then on the recording sheet. Students will use the chosen element to create a story. Students will have a blast getting to create fun and whimsical stories. "
(1-4)
The Answer is… What's the Question? Math Task Cards by Michelle of Making It As A Middle School Teacher:
"28 numbered cards that leave the level of difficulty and specific math skill to be assessed up to you! Some students may only do basic operations, while other students may be required to do more advanced skills and give more details for their answers. Two student response options are also included!! Use for early finishers, have the whole class complete in Round Robin style, or use as a center. Pull out specific cards or use all 28 cards."
(5-8)
David Shannon Author Study by Mary of Sharing Kindergarten:
"This is an 80 page author study using the books of David Shannon. It features 8 book. Each book title has a reading comprehension game, answer key, and writign prompts with it. "
(K-1)
Candy Land Long Vowel Game by Mel D of Seusstastic Classroom Inspirations:
"This unique game is one of over 50 games I have to offer! Over 18 pages of long vowel words are on "look-alike" Candy Land cards. All you need is a game board & game pieces. Print, laminate & cut & use for years to come. These games can be used during Daily 5, tutoring, literacy stations, Daily 5 Math, RTI, ELL, Title 1 groups, homeschooling & more! The possibilities are endless!"
(K-3)
A Not So Wimpy Resource: Fractions, Decimals & Percents Using Money by Kathie of The Diary of a Not So Wimpy Teacher :
"This resource is great for differentiating instruction. Help struggling students, or those who have a difficult time with math concepts, understand fractions using money. This resource includes an info sheet, practice sheet, flashcards, and a bingo board."
(3-5)
Again, leave a comment with your email after you are following my blog and TpT store on this post to win my product before APRIL 27th. Winner will be announced on April 28th!
And then hop on over to these great blogs to enter to win their free products too!